Welcome to SongHits.US!
Taking you back to the good ol' days with the music of Elvis Presley, Marty Robbins, Roy Orbison, Ricky Nelson and more!

Oldies' Trivia
The Harmony of Music The harmonious sounds of music can heal your soul. You can find the desired relax and peace in it. Open your heart to music and let the beauty overtake you.
Remember the good ole' days All about the good ol' days. With 50's & 60's Trivia, Bio's, Polls & More
The Art of Music About various trends and genres of music you can read in this sample article. Dive in the fascinating world of sounds!
Featured Favorite!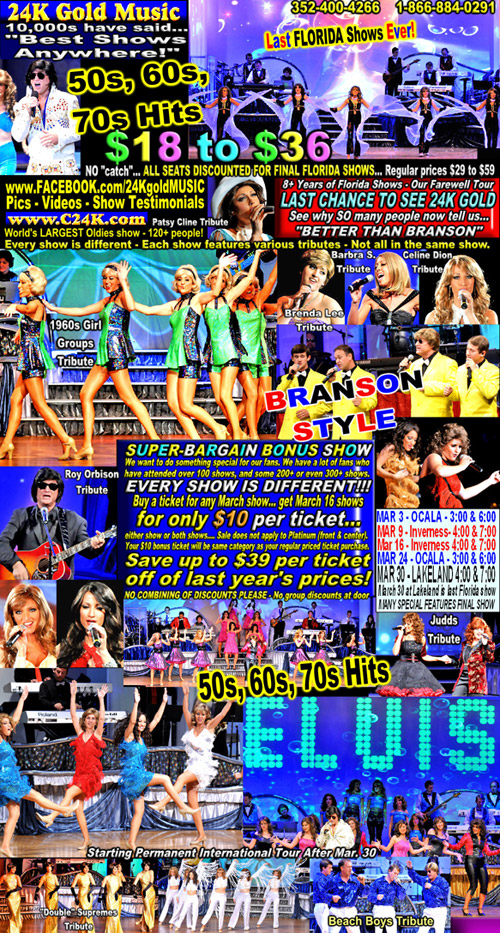 Favorite Artists of the 50's & 60's
Elvis Presley Elvis Aaron Presley, in the 1950's created "the" image of rock and roll. His early records including "That's All Right Mama", and "Blue Moon of Kentucky", were hits by 1955. In 1956 , under the RCA label, "Heartbreak Hotel" was his first #1 hit. Then came "Hound dog" and "Don't Be Cruel," which also were big hits for Elvis.

Though the parents, and eventually the Church, rose in protest against pelvic gyrations, Hollywood was quick to sign him for movies. He had just time enough to finish "Love Me Tender", "Loving You", "Jailhouse Rock", and "King Creole," before Uncle Sam in 1957 paged him for yet a bigger role..... that of G.I. # US-53310761....
Read Elvis Presley's Biography>>


Roy Orbison Roy Kelton Orbison was an American singer-songwriter and musician, well known for his distinctive, powerful voice, complex compositions, and dark emotional ballads. Orbison grew up in Texas and began singing in a rockabilly / country & western band in high school until he was signed by Sun Records in Memphis. His greatest success was with Monument Records in the early 1960s where 22 of his songs placed on the Top Forty, including "Only the Lonely", "Crying", "In Dreams", and "Oh, Pretty Woman". His career stagnated through the 1970s ..... Read More >>


Ricky Nelson Ricky Nelson (born Eric Hilliard Nelson; was an American singer-songwriter, instrumentalist, and actor. He placed fifty-three songs on the Billboard Hot 100 between 1957 and 1973, including nineteen top-ten hits, and was inducted into the Rock and Roll Hall of Fame on January 21, 1987...... Read More >>

Marty Robbins Martin David Robinson (September 26, 1925–December 8, 1982), known professionally as Marty Robbins, was an American singer, songwriter, and multi-instrumentalist. One of the most popular and successful country and Western singers of his era, for most of his nearly four-decade career, Robbins was rarely far from the country music charts, and several of his songs also became pop hits.... Read More >>

Connie Francis Concetta Rosa Maria Franconero (born December 12, 1938), known professionally as Connie Francis, is an American pop singer best known for several international hit songs including "Who's Sorry Now?," "Lipstick on Your Collar," "Where the Boys Are", and "Stupid Cupid." She topped the Billboard Hot 100 singles chart on three occasions with "Everybody's Somebody's Fool," "My Heart Has a Mind of Its Own" and "Don't Break the Heart That Loves You." She was the top-charting female artist of the 1950s and 1960s......
Read More >>

Patsy Cline

Patsy Cline (September 8, 1932 – March 5, 1963), born Virginia Patterson Hensley, was an American country music singer who enjoyed pop music crossover success during the era of the Nashville sound in the early 1960s. Since her death at age 30 in a 1963 private airplane crash at the height of her career, she has been considered one of the most influential, successful and acclaimed female vocalists of the 20th century.... Read More >>


24K Gold Music Shows

24K Gold Music Shows is a large oldies musical entourage consisting of 136 people. The shows are Unique, Fresh, Exciting, Emotional and bring back a Nostalgia like no other according to the Fans!. With a repetoire of songs ranging from "Johnny B Goode" - By Chuck Berry & "Help Me Rhonda" - By the Beach Boys to "Boogie Woogie Bugle Boy" - By the Andrew Sisters and "A Broken Wing" - By Martina McBride

The last 1/3 of each evening show is an Elvis Tribute, featuring songs like "Never Walk Alone," "Burnin' Love, and "That's All Right" . And every show is different and unique.

24K Gold Music Shows understands there was only one Elvis Presley, so NO ONE in in the band will ever attempt to "impersonate" Elvis or pretend to be him, nor claim to be as good as Elvis Presley, but to honor him, and his music as one of the greatest legends of all time.

So in a 24K Gold Music Show show you will be reminded of Elvis through his songs, with the arrangements in what Elvis himself proclaimed as his favorite and best times from the 68' Comeback Special era., along with the jumpsuits and accessories as close replicas to The King's for Nostalgia's sake.


Visit 24K Gold Music Show's Website Here >>
Visit 24K Gold Music Shows' Youtube Channel Here>>

Or Click on any one of the links below to take you directly to that video title on Youtube!